Turn Up Your Speakers

It's Time...
to say Goodbye to 2003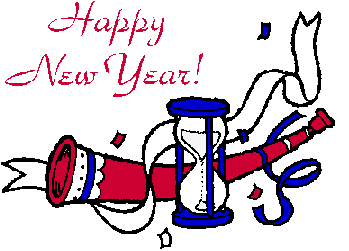 We Wish You Much,
Peace, Love, Health and Happiness in
2004
Here's to the bright New Year
And a fond farewell to the old;
Here's to the things that are yet to come
And to the memories that we hold.

Please enjoy the following information
on the Tradition of New Year, its customs, foods and its celebrations.
It's Another New Year...
...but why do we celebrate on January 1st?
10...9...8... The lighted ball in New York's Times Square starts picking up speed. 7...6...5... It's almost time. 4...3...2... Everyone holds their breath for the last few seconds. We're about to jump that seemingly large but invisible gap that separates the years. 1...0... Happy New Year!
We made it. The old year, for better or worse, is gone for good. The new year has begun with fresh promise. Here's our chance to start again, to do it right this time, to have another shot at success...at glory...at just accomplishing what we resolve to. It's time to shed that baggage from the year long gone and celebrate what can be in the 365 untouched days to come. Happy New Year!
Not all countries celebrate the New Year at the same time, or in the same way. This is because people in different parts of the world use different calendars. Long ago, people divided time into days, months, and years. Some calendars are based on the movement of the moon, others are based on the position of the sun, while others are based on both the sun and the moon. All over the world, there are special beliefs about the New Year.

ANCIENT NEW YEARS

The celebration of the new year is thought to be thee oldest of all holidays, first observed in ancient Babylon about 4000 years ago. In the years around 2000 BC, the Babylonian New Year began with the first New Moon (which is the crescent) after the Vernal Equinox (the first day of spring).
It makes sense to celebrate the new year at the beginning of spring. After all, it is the time of year the new growth peaks out from the snow, new leaves burst from trees, it is the season of planting new crops and welcoming warmth. January 1, on the other hand, has no astronomical nor agricultural significance. It is purely arbitrary.
The Babylonian celebrated the new year for eleven days. Each day had its own particular mode of celebration, Today's one night and one day of celebration fails in comparison to those of the Babylonians.
Romans observed the new year in late March, but their calendar was continually changed by various emperors so that their calendar soon became out of synchronization with the sun.
To set the calendar right, the Roman senate, in 153 BC, declared January 1 to be the beginning of the new year. But the changing of the calendar continued until Julius Caesar, in 46 BC, established what has now come to be known as the Julian Calendar. It again established January 1st as the new year. But in order to synchronize the calendar with the sun, Caesar had to let the previous year drag on for 445 days.

THE CHURCH'S VIEW OF NEW YEAR CELEBRATIONS

In the first centuries AD the Romans celebrated the new year and the early Catholic Church condemned the festivities as paganism. But as Christianity became more widespread, the early church began having its own religious observances concurrently with many of the pagan celebrations, and New Year's Day was no different. New Years is still observed as the Feast of Christ's Circumcision by some denominations.
During the Middle Ages, the Church remained opposed to celebrating New Years. January 1st has been celebrated as a holiday by Western nations for only about the past 400 years.

NEW YEAR TRADITIONS

One tradition of the season includes making New Year's resolutions. This tradition dates back to the early Babylonians. Modern resolutions include the promise to spend more time with family, lose weight or quit smoking. The most popular Babylonian resolution was to return borrowed farm equipment.
The Tournament of Roses Parade dates back to 1886. In that year, members of the Valley Hunt Club decorated their carriages with flowers. It also celebrated the ripening of the orange crop in California.
Although the Rose Bowl football game was first played as a part of the Tournament of Roses in 1902, it was replaced by Roman chariot races the following year. In 1916, the football game returned as the sports centerpiece of the festival.
The tradition of using a baby to signify the new year was begun in Greece around 600 BC. It was their tradition at that time to celebrate their god of wine, Dionysus, by parading a baby in a basket, representing the annual rebirth of that god as the spirit of fertility. Early Egyptians also used a baby as a symbol of rebirth.
Although the early Christians denounced the practice as pagan, the popularity of the baby as a symbol of rebirth forced the Church to reevaluate its position. The Church finally allowed its members to celebrate the new year with a baby, which was to symbolize the birth of the baby Jesus.
The use of an image of a baby with a New Years banner as a symbolic representation of the new year was brought to early America by the Germans. They had used the effigy since the fourteenth century.

FOR LUCK IN THE NEW YEAR

It was once believed that one could affect the luck they would have throughout the coming year by what they did or ate on the first day of the year. For that reason, it has become common to celebrate the first few minutes of a the new year with family and friends. Parties often last into the middle of the night after the ringing in of a new year. It was once believed that the first visitor on New Year's Day would bring either good luck or bad luck the rest of the year. It was particularly lucky if that visitor happened to be a tall dark-haired man.
Traditional New Year foods are also thought to bring luck. Many cultures believe that anything in the shape of a ring is good luck, because it symbolizes "coming full circle," completing a year's cycle. For that reason, the Dutch believe that eating donuts on New Year's Day will bring good fortune.
Many parts of the U.S. celebrate the new year by consuming black-eyed peas. These legumes are typically accompanied by either hog jowls or ham. Black-eyed peas and other legumes have been considered good luck in many cultures. The hog, and thus its meat, is considered lucky because it symbolizes prosperity. Cabbage is another "good luck" vegetable that is consumed on New Year's Day by many. Cabbage leaves are also considered a sign of prosperity, being representative of paper currency. In some regions, rice is a lucky food that is eaten on New Year's Day.
Around the world, different cultures have their own traditions for welcoming the new year.
The Japanese hang a rope of straw across the front of their houses to keep out evil spirits and bring happiness and good luck. They also have a good laugh as the year begins to get things started on a lucky note.
In West Bengal, in northern India, people like to wear pink, red, purple and white flowers. Women favor yellow, the color of spring.
Hindus put shrines next to their beds so they can see beautiful objects when they wake up to the new year.
In Vancouver, British Columbia, Canadians enjoy the traditional polar bear swim. People of all ages don their swim suits and take the plunge, an event that is sure to get you started in the new year with eyes wide open.
A fairly new tradition that is starting to spread worldwide is a community celebration of the visual and performing arts on New Year's Eve. Started in Boston in 1976, an organization called First Night promotes alcohol-free festivals in 186 American cities, 16 in Canada, plus Hastings, New Zealand and Greenwich, England. Typical experiences include ice sculptures, dancing, storytelling, theater, poetry, films and, at the stroke of midnight, an elaborate fireworks display.
(See below for more celebrations around the world.)

AULD LANG SYNE

The song, "Auld Lang Syne," (playing right now on your speakers), is sung at the stroke of midnight in almost every English-speaking country in the world to bring in the new year. At least partially written by Robert Burns in the 1700's, it was first published in 1796 after Burns' death. Early variations of the song were sung prior to 1700 and inspired Burns to produce the modern rendition. An old Scotch tune, "Auld Lang Syne" literally means "old long ago," or simply, "the good old days."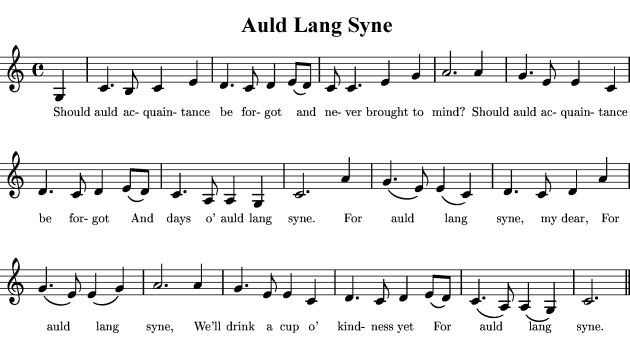 Here are lyrics to two versions we found.
Auld Lang Syne
================
Robert Burns

Chorus
For auld lang syne, my dear
For auld lang syne,
We'll take a cup o' kindness yet
For auld lang syne!
I
Should auld acquaintance be forgot,
And never brought to mind ?
Should auld acquaintance be forgot,
And auld lang syne!
II
And surely ye 'll be your pint' stowp,
And surely I 'll be mine,
And we 'll take a cup o' kindness yet
For auld lang syne!
III
We twa hae run about the braes,
And pou'd the gowans fine,
But we 've wander'd monie a weary fit
Sin' auld lang syne.
IV
We twa hae paidl'd in the burn
Frae morning sun till dine,
But seas between us braid hae roar'd
Sin' auld lang syne.
V
And there's a hand, my trusty fiere,
And gie 's a hand o' thine,
And we 'll tak a right guid-willie waught
For auld lang syne!
Chorus
For auld lang syne, my dear,
For auld lang syne,
We'll tak a cup o' kindess yet
For auld lang syne!
**************
Should auld acquaintance be forgot,

And never brought to mind?

Should auld acquaintance be forgot,

And days of auld lang syne? And days of auld lang syne, my dear,

And days of auld lang syne.

Should auld acquaintance be forgot,

And days of auld lang syne?

We twa hae run aboot the braes

And pu'd the gowans fine.

We've wandered mony a weary foot,

Sin' auld lang syne.

Sin' auld lang syne, my dear,

Sin' auld lang syne,

We've wandered mony a weary foot,

Sin' auld ang syne.

We twa hae sported i' the burn,

From morning sun till dine,

But seas between us braid hae roared

Sin' auld lang syne.

Sin' auld lang syne, my dear,

Sin' auld lang syne.

But seas between us braid hae roared

Sin' auld lang syne.

And ther's a hand, my trusty friend,

And gie's a hand o' thine;

We'll tak' a cup o' kindness yet,

For auld lang syne.

For auld lang syne, my dear,

For auld lang syne,

We'll tak' a cup o' kindness yet,

For auld lang syne.
**********
Notes: Robert Burns sent a copy of the original song to the British Museum with this comment: "The following song, an old song, of the olden times, and which has never been in print, nor even in manuscript until I took it down from an old man's singing , is enough to recommend any air."
(Gavin Grieg: "Last Leaves of Traditional Ballads")
---

New Year Celebrations Around The World


In ancient Egypt, New Year was celebrated at the time the River Nile flooded, which was near the end of September. The flooding of the Nile was very important because without it, the people would not have been able to grow crops in the dry desert. At New Year, statues of the god, Amon and his wife and son were taken up the Nile by boat. Singing, dancing, and feasting was done for a month, and then the statues were taken back to the temple.

In the Soviet Union, children who live in the city of Moscow may visit the Kremlin Palace of Congresses. There they will see a huge fir tree called the New Year Tree. The tree is decorated with countless colored lights. Children might also see a fairy-tale play and get gifts from Grandfather Frost and his helper the Snow Maiden.

People in Sweden attend church services in the morning. Then comes a big family dinner, much like the one at Christmas.

The Muslim calendar is based on the movements of the moon, so the date of New Year is eleven days earlier each year.

Iran is a Muslim country which used to be called Persia. The people celebrate New Year on March 21, and a few weeks before this date, people put grains of wheat or barley in a little dish to grow. By the time of New Year, the grains have produced shoots, and this reminds the people of spring and a new year of life. Most Hindus live in India, but they don't all celebrate the New Year in the same way or at the same time.

The people of West Bengal, in northern India, like to wear flowers at New Year, and they use flowers in the colors of pink, red, purple, or white. Women like to wear yellow, which is the color of Spring.

In Kerala, in southern India, mothers put food, flowers, and little gifts on a special tray. On New Year's morning, the children have to keep their eyes closed until they have been led to the tray. In central India, orange flags are flown from buildings on New Year's Day.

In Gujarat, in western India, New Year is celebrated at the end of October, and it is celebrated at the same time as the Indian festival of Diwali. At the time of Diwali, small oil lights are lit all along the roofs of buildings.

At New Year, Hindus think particularly of the goddess of wealth, Lakshmi.

In Vietnam, the New Year is called Tet Nguyen Dan or Tet for short. It begins between January 21 and February 19, and the exact day changes from year to year. They believe that there is a god in every home, and at the New Year this god travels to heaven. There he will say how good or bad each member of the family has been in the past year. They used to believe that the god traveled on the back of a fish called a carp, and today, they sometimes buy a live carp, and then let it go free in a river or pond. They also believe that the first person to enter their house at New Year will bring either good or bad luck.

In Japan, New Year is celebrated on January 1, but the Japanese also keep some beliefs from their religion, which is called Shinto. To keep out evil spirits, they hang a rope of straw across the front of their houses, and this stands for happiness and good luck. The moment the New Year begins, the Japanese people begin to laugh, and this is supposed to bring them good luck in the new year.

China (courtesy Denise Richards) The origin of the Chinese New Year is itself centuries old - in fact, too old to actually be traced. It is popularly recognized as the Spring Festival and celebrations last 15 days. Preparations tend to begin a month from the date of the Chinese New Year (similar to a Western Christmas), when people start buying presents, decoration materials, food and clothing.

A huge clean-up gets underway days before the New Year, when Chinese houses are cleaned from top to bottom, to sweep away any traces of bad luck, and doors and windowpanes are given a new coat of paint, usually red.

The doors and windows are then decorated with paper cuts and couplets with themes such as happiness, wealth and longevity printed on them. The eve of the New Year is perhaps the most exciting part of the event, as anticipation creeps in. Here, traditions and rituals are very carefully observed in everything from food to clothing.

Dinner is usually a feast of seafood and dumplings, signifying different good wishes. Delicacies include prawns, for liveliness and happiness, dried oysters (or ho xi), for all things good, raw fish salad or yu sheng to bring good luck and prosperity, Fai-hai (Angel Hair), an edible hair-like seaweed to bring prosperity, and dumplings boiled in water (Jiaozi) signifying a long-lost good wish for a family. It's usual to wear something red as this color is meant to ward off evil spirits - but black and white are out, as these are associated with mourning.

After dinner, the family sit up for the night playing cards, board games or watching TV programs dedicated to the occasion. At midnight, the sky is lit up by fireworks.

On the day itself, an ancient custom called Hong Bao, meaning Red Packet, takes place. This involves married couples giving children and unmarried adults money in red envelopes. Then the family begins to say greetings from door to door, first to their relatives and then their neighbors. Like the Western saying "let bygones be bygones," at Chinese New Year, grudges are very easily cast aside. The end of the New Year is marked by the Festival of Lanterns, which is a celebration with singing, dancing and lantern shows. The Chinese New Year is celebrated some time between January 17 and February 19, at the time of the new moon, and it is called Yuan Tan. It is celebrated by Chinese people all over the world, and street processions are an exciting part of their New Year.

The Festival of Lanterns is the street processions, and thousands of lanterns are used to light the way for the New Year The Chinese people believe that there are evil spirits around at New Year, so they let off firecrackers to frighten the spirits away. Sometimes they seal their windows and doors with paper to keep the evil spirits out.

In Europe, New Year was often a time for superstition and fortune-telling, and in some parts of Switzerland and Austria, people dress up to celebrate Saint Sylvester's Eve. In AD 314, there was a Pope called Saint Sylvester, and people believed that he captured a terrible sea monster. It was thought that in the year 1000, this sea monster would escape and destroy the world, but since it didn't happen, the people were delighted.

Since then, in parts of Austria and Switzerland, this story is remembered at New Year, and people dress up in fantastic costumes, and are called Sylvesterklauses.

In Greece, New Year's Day is also the Festival of Saint Basil. Saint Basil was famous for his kindness, and Greek children leave their shoes by the fire on New Year's Day with the hope that he will come and fill the shoes with gifts.

In Scotland, New Year is called Hogmanay, and in some villages barrels of tar are set alight and rolled through the streets. Thus, the old year is burned up and the new one allowed to enter. Scottish people believe that the first person to enter your house in the New Year will bring good or bad luck, and it is very good luck if the visitor is a dark-haired man bringing a gift. This custom is called first-footing. The song, Auld Lang Syne is sung at midnight on New Year's Eve, and this custom is now celebrated all over the world.

In British Columbia, Canada, there is the traditional polar bear swim. People of all ages put on their bathing suits, and plunge into the icy cold water which surrounds Vancouver during the winter.

The United States rings in the New Year with it's largest celebration since 1908, the dropping of the ball in New York's Time Square. Then on New Year's Day it celebrates with the Tournement of Roses Parade, held for over 100 years in Pasadena, California, by decorating floats with thousands of flowers, seeds and other plant materials. In Philadelphia, Pennsylvania they have the Mummers' Parade.

Famous Squares ~ 500,000+ New Yorkers have Times Square, 250,000+ Berliners have The Brandenburg Gate, 100,000+ Muscovites have Red Square, 100,000+ Londoners have Trafalgar Square.


Say Happy New Year in any language!

(please contact us with more languages that we have omitted
and please, let us know if you see an error!)
| | |
| --- | --- |
| Country | Happy New Year |
| Afghanistan | Saale Nao Mubbarak |
| Africa - Afrikaans | Gelukkige nuwe jaar |
| Albania | Gezuar Vitin e Ri |
| Arabia | Antum salimoun |
| Bengal | Shuvo Nabo Barsho |
| China | Chu Shen Tan |
| Corsica | Pace e Salute |
| Cymraeg (Welsh) | Blwyddyn Newydd Dda |
| Czech Republic | Scastny Novy Rok |
| Denmark | Godt Nytår |
| Dutch | GELUKKIG NIEUWJAAR! |
| Eskimo | Kiortame pivdluaritlo |
| Estonia | Head uut aastat! |
| Finland | Onnellista Uutta Vuotta |
| France | Bonne Annee |
| Gaelic | Bliadhna mhath ur |
| Germany | Prosit Neujahr |
| Greece | Kenourios Chronos |
| Hawaii | Hauoli Makahiki Hou |
| Hebrew | L'Shannah Tovah |
| Hindi | Nahi varsh ka shub kamna |
| Indonesia | Selamat Tahun Baru |
| Iraq | Sanah Jadidah |
| Ireland | Bliain nua fe mhaise dhuit |
| Italy | Felice anno nuovo |
| Laotia | Sabai dee pee mai |
| Nepal | Nawa Barsha ko Shuvakamana |
| Norway | Godt Nyttår |
| Papua New Guinea | Nupela yia i go long yu |
| Philippines | Manigong Bagong Taon |
| Poland | Szczesliwego Nowego Roku |
| Portugal | Feliz Ano Novo |
| Punjabi | Nave sal di mubarak |
| Romania | AN NOU FERICIT |
| Russia | S Novim Godom |
| Serbia-Croatia | Sretna nova godina |
| Sindhi | Nayou Saal Mubbarak Hoje |
| Singhalese | Subha Aluth Awrudhak Vewa |
| Slovakia | A stastlivy Novy Rok |
| Somali | Iyo Sanad Cusub Oo Fiican! |
| Spain | Feliz Ano ~Nuevo |
| Swahili | Heri Za Mwaka Mpyaº |
| Sudan | Warsa Enggal |
| Tamil | Eniya Puthandu Nalvazhthukkal |
| Thailand | Sawadee Pee Mai |
| Turkey | Yiliniz Kutlu Olsun |
| Ukrain | Shchastlyvoho Novoho Roku |
| Urdu | Naya Saal Mubbarak Ho |
| Vietnam | Chuc Mung Tan Nien |
---

New Year's Food Traditions

Everyone around the globe celebrates with food. Here are just a few traditional foods eaten around the world to ring in the New Year.
Olie Bollen a donut-like fritter is popular in Holland for New Year.

Eating pickled herring as the first bite of the New Year is said to bring good luck to those of Polish descent.

Eating noodles at midnight is traditional at Buddhist temples in Japan.

In Cuba they eat 12 grapes at the stroke of midnight for good luck. The 12 grapes signify the last twelve months of the year.

Black-eyed peas, fish, apples, and beets are eaten for luck at the Jewish New Year's celebration.

German tradition is eating herring at the stroke of midnight to bring luck for the next year.

In the southern United States, it is believed eating black eyed peas on New Year's Eve will bring luck for the coming year. Other customary New Year foods in the south include eating greens such as cabbage, collard greens, mustard greens, kale or spinach to bring money and cornbread to bring wealth.

The traditional eating greens can be found in other cultures as well, although the cabbage can take many forms, such as sauerkraut or even kimchee.

In the Philippines, it is important to have food on the table at midnight in order to insure an abundance of food in the upcoming year.

And in Denmark Boiled Cod is the fare for New Year's Eve.

If you know of other ethnic or regional New Year's food traditions, please let us know so we can include them. Email us at: mailbag@emotionscards.com
---
2004 New Year's Time Table / Clock
Kiritimati on the Christmas Islands, Kiribati and Tonga enter the year 2004 first.

Samoa rings in the New Year in the last place.

Click the link to see in what order other Countries ring in the New Year.
http://www.timeanddate.com/counters/firstnewyear.html
---
If you, your family or friends, have any other traditions, stories, etc., that can be included above, we'd love to hear from you. You can email us at: mailbag@emotionscards.com
Copyright ©Emotions Greeting Cards a division of VH Productions 2000-2004