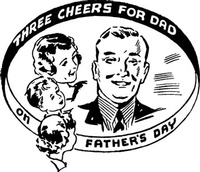 So when and why did we start celebrating Dads with a special day?
Turn up your speakers, scroll down and learn about this celebration.
Be sure to print out this page and share it with your friends,
family and of course your Dad!


THE HISTORY OF FATHER'S DAY

EARLY CELEBRATIONS
Some historians believe that the earliest celebrations of Father's Day began with the Romans, although they only honored those deceased.
---
Sonora louise Smart Dodd


It is said that our modern celebration of Father's Day was most likely begun by Mrs. John B. Dodd (Sonora Louise Smart), of Spokane, Washington, who first suggested the idea of the holiday in 1909.

Mrs. Dodd's father, William Smart, a civil war veteran, was widowed when his wife died in childbirth with their sixth child. Although he suffered through many hardships of raising children as a sole parent, Mr. Smart proceeded to raise his newborn baby along with his five other children.
Photo Courtesy
YMCA of USA Archives

When Sonora Dodd became an adult, she realized the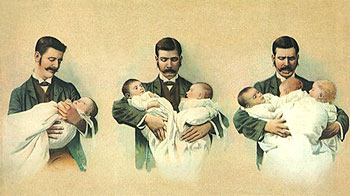 strength and selflessness her father had shown in raising them all as a single parent. Her proposed local Father's Day celebration received strong support from the townspeople, ministry and the members of the Spokane YMCA. The original date chosen for the holiday was Mr. Smart's birthday, June 5, but because there was not enough time to prepare, the celebration was postponed until June 19, the third Sunday in June.
Newspapers across the country, already endorsing the need for a national Mother's Day, carried stories about the unique Spokane observance. Interest in Father's Day increased. Among the first notables to support Mrs. Dodd's idea nationally was the orator and political leader William Jennings Bryan, who also had backed

Mother's Day. Believing that fathers must not be slighted, he wrote to Mrs. Dodd, "too much emphasis cannot be placed upon the relation between parent and child."
Father's Day although, was not as quickly accepted as Mother's Day. Members of the all male Congress felt that a motion to proclaim the day official might be interpreted as a self serving pat on the back.
In 1916, President Woodrow Wilson and his family personally observed the day and in 1924 President Calvin Coolidge supported the idea of a national Father's Day, but it didn't become an official holiday until 1966 when President Lyndon Johnson signed the presidential proclamation that set aside the 3rd Sunday of June as Father's Day. Later in 1972 President Nixon established a permanent national observation of the day.
Sonora Louise Smart Dodd died at the age of 96 but her legacy lives on. A monument to Sonora's
holiday stands at the Spokane YMCA . Today thousands of fathers and their children enjoy a wide range of family programs at 2,393 YMCA's nationwide.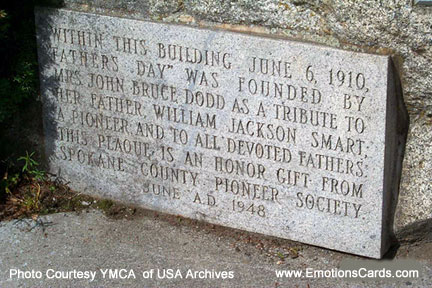 This monument to Sonora Smart Dodd and Father's Day
stands at the Spokane YMCA
where the first Father's Day celebration took place.
---
Mrs. Charles Clayton
Around the same time in towns and cities across the United States, other people were also starting to celebrate a Father's Day. Although most histories give credit to Mrs. Dodd some accounts credit Mrs. Charles Clayton of West Virginia, as the founder of Father's Day.
---
Senator Margaret Chase Smith
Many people attempted to get official recognition of Father's Day. In 1957, Senator Margaret Chase Smith wrote Congress that "Either we honor both our parents, mother and father, or let us desist from honoring either one. But to single out just one of our two parents and omit the other is the most grievous insult imaginable."
---
Harry C. Meek
Harry C. Meek is also given credit for founding the idea of Father's Day. A President of a Chicago Lions Club, Meeks gave speeches to various groups about the need to honor fathers through out the United States. In appreciation for his work, the Lions Clubs of America presented him with a gold watch, with the inscription "Originator of Father's Day," on his birthday, June 20, 1920.
---

Today, Father's Day is celebrated in a number of countries around the world,
on different official dates.

New Zealand celebrates Father's Day on the first Sunday of September.
Father's Day is celebrated in Spain on March 19th.
Photo Courtesy
YMCA of USA
Archives
In the beginning, wearing flowers was a traditional way of celebrating Father's Day. Mrs. Dodd preferred a red rose to honor a father still living, while a white flower honored a deceased dad.
J.H. Berringer, who also held Father's Day celebrations in Washington State as early as 1912, chose a white lilac as the Father's Day flower.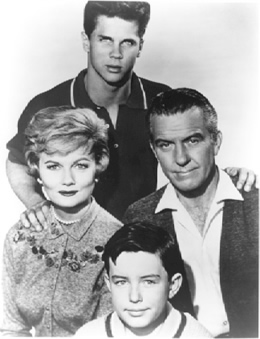 Now that you've read about the history of Father's Day,
click on the photo above to visit our Trivia Page
and see how you do on our Father's Day Quiz.
You can send free Father's Day E-Cards
from our site (link on home page below) or,
visit our Special Occasions Section to purchase Paper Cards
for your Dad to cherish forever.
Copyright ©Emotions Greeting Cards a division of VH Productions 2000-2002