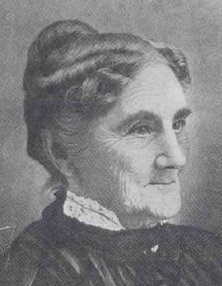 Juliet Calhoun Blakeley
The first known observance of Mother's Day in America occurred in Albion, Michigan on the second Sunday in May, 1877. It was the actions of an Albion Pioneer woman, Juliet Calhoun Blakeley, that set Mother's Day in motion. Two days before her 59th birthday on May 11, 1877, three young men, all sons of staunch temperance advocates, were found drunk on the streets of Albion's business district. They had been the victims of anti-temperance shenanigans.
One of the young men was the son of the pastor of the local Methodist Episcopal Church. On Sunday (Mrs. Blakeley's birthday) the pastor was so distraught that he had to leave the pulpit before the services were concluded. Mrs. Blakeley, sitting near the front, stepped to the pulpit to take over the remainder of the service and called other mothers to join her.
Mrs. Blakeley's sons, Charles C. and Moses A. were travelling salesmen. They were so moved by her gesture that they vowed to return to Albion every year to mark their mother's birthday anniversary and to pay tribute to her.
In addition, the two brothers made it a practice to urge business associates and those they met on the road to honor their mothers accordingly on the second Sunday of May.
Because of the brothers urgings, the Methodist Episcopal Church in Albion set aside the second Sunday of each May to pay special recognition to mothers, and especially to Juliet Calhoun Blakeley "The Original Mother of Mother's Day", early in the 1880s.
Juliet Calhoun Blakeley was born in New York in 1818, the daughter of James Calhoun. Her father's cousin was the statesman John C. Calhoun. Juliet's family came to Michigan and settled near Homer in 1832, but she remained in New York with her grandparents. In 1837, she married Alphonzo Blakeley. They then came to live in Michigan the same year it became a state. After living in Detroit through the winter, they settled in Homer in 1838.
Alphonzo Blakeley was a carpenter, and helped build Wesleyan Seminary, which later became Albion College. Eventually the couple moved to Albion and lived there for many more years. Alphonzo died in 1899 at the age of 92, Moses died in 1900. Mrs. Blakeley died in Albion on Nov. 29, 1920 at the age of 102 years.
Copyright ©Emotions Greeting Cards a division of VH Productions 2000-2002